Want to become more successful and happy in life?

The Magic Question: How to Get What You Want in Half the Time
(Amazon #1 Best Seller)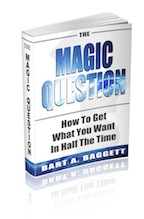 This is a scientific-based success methodology distilled down into its one easy and effective method. This simple method utilized your own self-talk to create a more powerful and effective internal dialogue.
The Magic Question might sound too good to be true, but it's based on sound brain science and advanced linguistics. Best of all… it's easy to read and filled with fun stories. It has nothing to do with more effort, visualization, or even goal-setting, but can serve to powerfully enhance any of those things. It's about shifting your mind in the direction of happiness, success, and optimism… using the power of one question a day.
PRICE: $2.99 for both the PDF file and Full Audio Book

Or, download the entire book for free during this limited "Free Download" offer.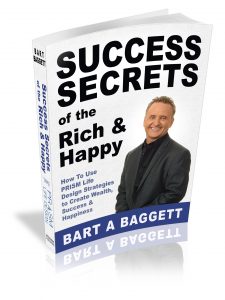 Success Secrets of the Rich & Happy
New! Bart Baggett's latest book reveals the psychological "Success Secrets of the Rich and Happy." It is available now in INSTANT DOWNLOAD from anywhere in the world with no shipping.  This will be the most important book you read all year! Only $19.99 and includes a free audio bonus. Over 435 pages of NLP, handwriting, psychology, financial strategy, and so much more.  This book can be purchased at this site in PDF format or shipped to your door.
In India, contact Sterling Publishers, New Delhi.

Books by Bart Baggett can be purchased  from the this authorized website: https://www.handwritinguniversity.com/order/catalog.html
Empresse Publishing publishes books by Bart Baggett and sold through Handwriting University International, Amazon, Sterling Publishers, and others. See the full catalog of Bart Baggett product's here.

The Grapho-Deck Handwriting Analysis Flash Cards 2014
This set of 54 Flash cards is usually sold bundled with the all new booklet
"Learn Handwriting Analysis in 10 Minutes a Day". This is a white 54 page
booklet which is distributed and published by Empresse Publishing and
distributed through Amazon.com and Handwriting University International.

For live seminars and courses relating to handwriting analysis visit this site:
http://www.myhandwriting.com/seminars/